To support patients and their families during their most difficult times, we set up the Cipla Palliative Care & Training Centre in 1997 and have served over 22,000 patients with free of cost care till date.
Designed to Care
Our 50-bedded Centre is designed to provide personalised care and exudes an atmosphere of peace and serenity.
Our Centre is built around the concept of an 'aangan' or an open courtyard to foster a sense of community.
Our wards are named after flowers to bring cheer and comfort in a medical care setting.
Our patients are known by their names, not their bed numbers.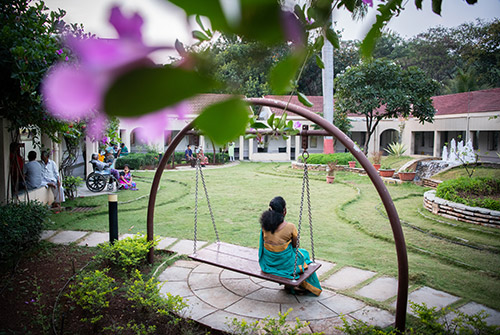 Our Key Guiding Principles
Actively engaging patients and their families in the care that they receive.
Empowering caregivers by giving them the confidence and necessary skills to care for their loved ones.
Implementing a multi- disciplinary approach with skilled professionals to deliver holistic care to patients.
Enabling patients to have access to palliative services at any point in their illness trajectory and in their preferred setting.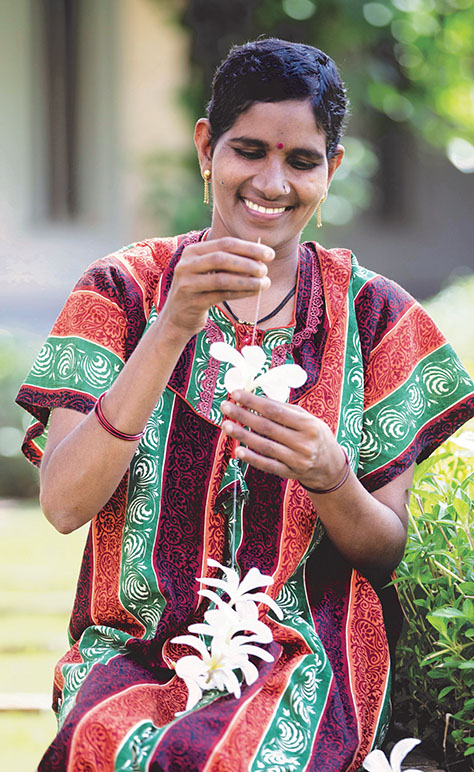 Our Unique Family Care Approach
A service that is deeply embedded in the Indian ethos of family and community, where a family member stays with the patient at our Centre.
Patients and their caregivers are equally cared for by our team— whether at our Centre, at their home, or in an outpatient department.
We equip family members by giving them the confidence and skills needed to care for their loved ones. When they leave the Centre, it is this training that will allow them to cope with the all-consuming demands of a serious illness.
Family members also receive ongoing emotional and psychosocial support, including much-needed grief and bereavement counselling.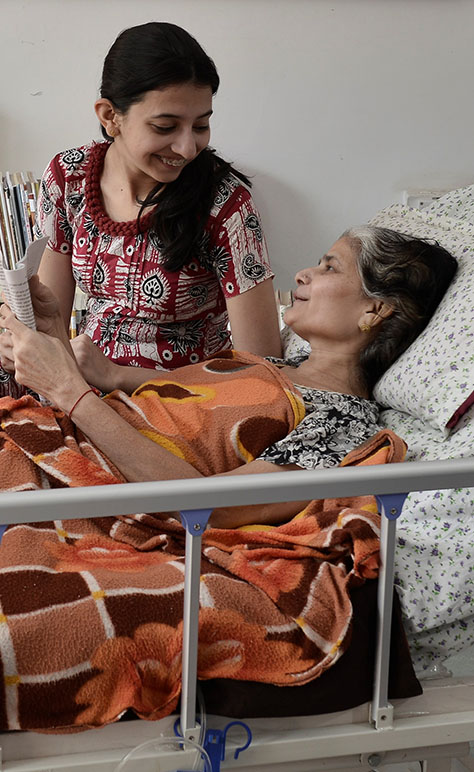 Our Multi-disciplinary Approach
After a personalised assessment, patients and family members can access free-of-cost care at our Centre, in an outpatient department, or at home.
Our palliative care doctors work very closely with the patient's physician; this partnership allows for consistent patient care. This multi-disciplinary approach ensures that the patient's needs and concerns are effectively addressed.
Our HOLISTIC CARE is anchored in a family care model. Whether inpatient, outpatient or at home, this MULTI-DISCIPLINARY TEAM comes together to SUPPORT PATIENTS AND THEIR FAMILIES.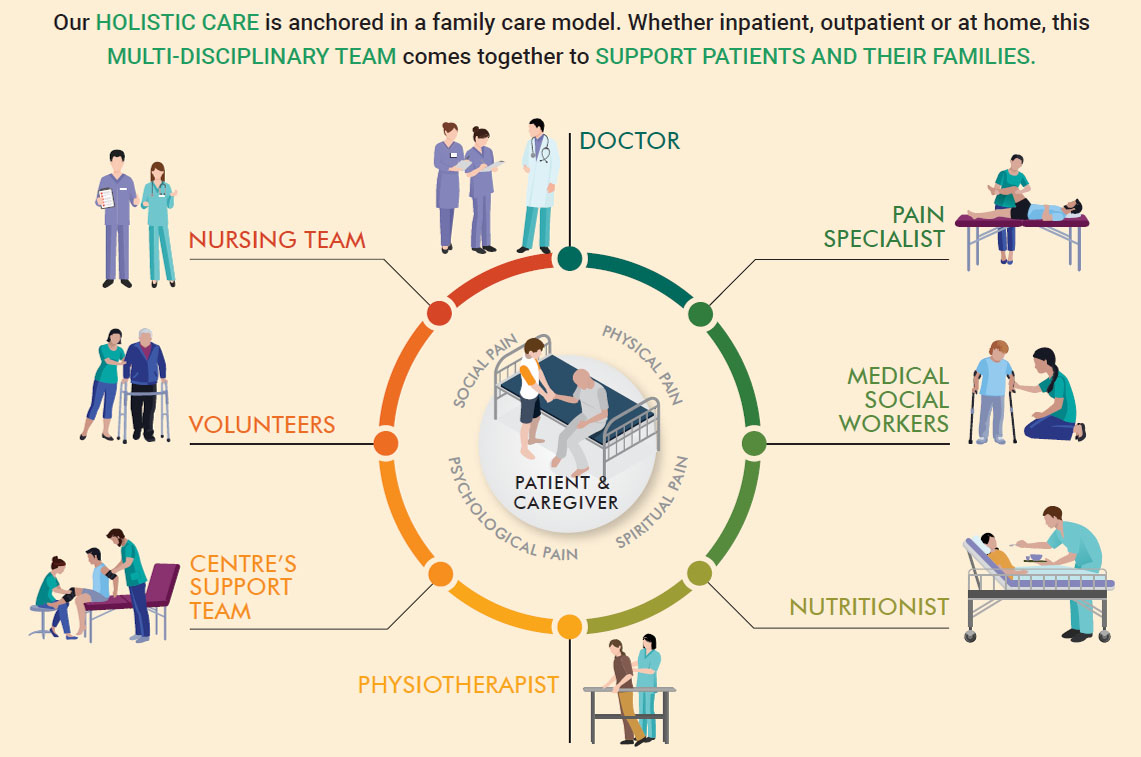 Science of Care
Doctors and nurses use their specialised training in palliative medicine to relieve the physical pain and other symptoms of people living with a serious illness.
We follow the World Health Organization (WHO)1 analgesic ladder and the latest evidence-based interventional pain management techniques.
Alongside medical therapies, we offer much-needed emotional comfort and counselling, focusing on a holistic approach to care.
1World Health Organization. (2019). WHO Guidelines for the Pharmacological and Radiotherapeutic Management of Cancer Pain in Adults and Adolescents. Geneva: World Health. ISBN: 978 9241550390. Available at: https://apps.who.int/iris/bit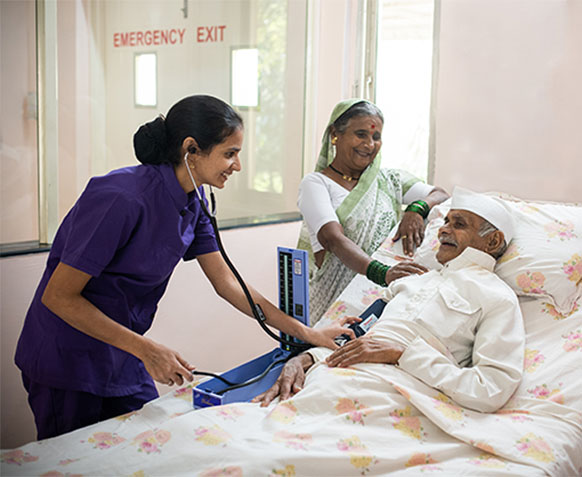 Continuity of Care in the Comfort of Home
We aim to provide patients and their families the confidence that their pain and symptoms can be managed at home. Our home care team extends high quality free-of-cost care to patients living in the city of Pune.
We offer them the flexibility and convenience to receive support at their home.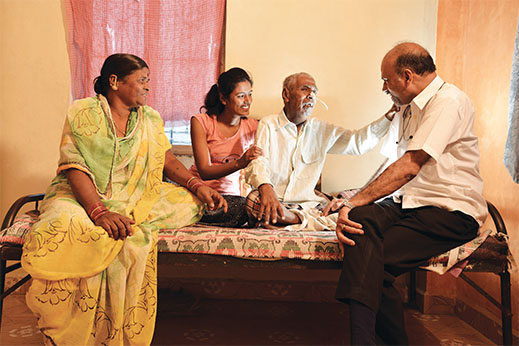 Outpatient Care
We provide outpatient services at our Centre as well as at hospitals around Pune. Patients and their families meet with a doctor, nurse and social worker to discuss clinical advice, receive emotional support and information about other support services at all our OPDs. Additionally, OPD patients can also avail off services of the physiotherapist, nutritionist and pain specialist at our Centre.